West Hume Palliative Care Consultancy Service
Service name:  Goulburn Region Palliative Care Consultancy Service
(Formally West Hume Palliative Care Consultancy Service)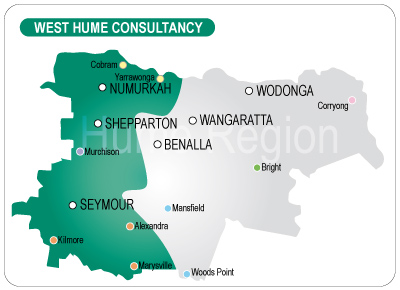 Description:
The Goulburn Region Palliative Care Consultancy Service is able to provide the following support services:
Direct consultancy advice and support for palliative care patients Monday to Friday 8am to 5pm.
Indirect advice and support to General Practitioners and other health care providers requiring support with the management of people with life-limiting illness.
Monthly Palliative Care Clinic in Shepparton to enable review of complex palliative care patients. For referral to clinic please contact your local specialist palliative care service.
Weekly teleconference case review and support for specialist Palliative Care Services in the West Hume region.
Coordination of an annual palliative care education and training calendar outlining education opportunities in the area.
Involvement in palliative care quality improvement and research initiatives at a local, regional, State and National level.
Catchment:
Greater City of Shepparton, Shires of Moira, Mitchell, Strathbogie & Murrindindi
Contact Details:
Phone: (03) 5831 0018
Fax: (03) 5832 2394
CNC On-call mobile: 0438 842 389 (Monday to Friday 8.00am – 4.30pm)
Email: Pall.Consultancy@gvhealth.org.au
Website: www.gvhealth.org.au
Address: Goulburn Valley Health, Graham Street, Shepparton, Vic., 3630
Staff
Specialist Physician in Palliative Medicine – Dr Siva Subramaniam
Clinical Nurse Consultants: Annette Cudmore, Chris Keogh
Administration Assistant: Sandra Jasper