Palliative Approach
End of life  and palliative care are an integral part of the standard clinical practice of most health professionals who are not part of specialist palliative care teams; almost every health professional will encounter clients at or approaching end of life, clients with progressive or symptomatic illness and bereaved families (Victorian Department of Health and Human Services, 2016).
A palliative approach aims to improve the quality of life for individuals experiencing a life-limiting illness and their families, by reducing their suffering through early identification, assessment and treatment of pain, physical, cultural, psychological, social and spiritual needs. A palliative approach is not confined to the end stages of an illness; it provides a focus on providing comfort and actively reducing symptoms and distress and all health care providers can incorporate the palliative approach into their practice (Victorian Government Department of Human Services, 2009).
Generally, patient symptoms and on going care is managed by the GP, community and residential care services. The condition of the patient, carer and/or family is reasonably stable and no new issues are evident. No specialist palliative care is involved and needs are met within the established care plan.
[dropdown title='Palliative Approach for Residential Aged Care Toolkit']
Adoption of the palliative approach in residential aged care facilities in the Hume Region is supported by the Palliative Approach for Residential Aged Care Toolkit. The toolkit is a comprehensive step-by-step guide to implementing an evidence based palliative approach in residential aged care facilities (RACFs). It includes policies and procedures, education for staff, as well as resources for friends and relatives of residents in RACFs.
The Hume Region Aged & Disability Link Resource Nurses provide support to RACF staff implementing the toolkit.
Contact:
East Hume Aged & Disability Link Resource Nurse
Heather Wickham
E: Heather.Wickham@nhw.hume.org.au
West Hume Aged & Disability Link Resource Nurse
Karen Richards
E: Karen.Richards@seymourhealth.org.au
[/dropdown]
[dropdown title='Contact A&D Link Resource Nurse']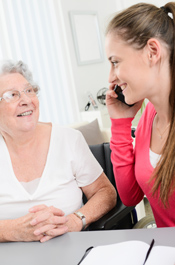 East Hume Aged & Disability Link Resource Nurse
Heather Wickham
E: Heather.Wickham@nhw.hume.org.au
West Hume Aged & Disability Link Resource Nurse
Karen Richards
E: Karen.Richards@seymourhealth.org.au
[/dropdown]